I'm a list-maker. I make lists of things to do, things to pack,
things I want to achieve/have/buy/fix/change.
Seems my eight-year-old is following in my footsteps. Here is the list of fun activities
she compiled at a recent play date: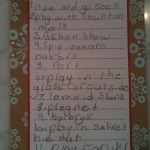 [NOTE: You can click on the picture to open it in a new window and see it larger. I had it here full-size but it was making the text all wonky and I couldn't stand it.]

I was a little concerned when I saw #5 (fart? We don't even use that word!), but then I saw #8.
I am hoping they chose, wisely, to pray in the grass instead.

At least she's organized.