(You do. You really do.)
Don't just take my word for it… here's what some other fabulous folks have to say about it:
"Wildly funny, intimate and ever-so-honest. Trust me, you won't want this trip to end!" ~Cheryl Richardson, bestselling author
"Laugh-out-loud funny, touching and packed with indispensable tips, The Parent Trip is a must-read for new moms." ~Kathy Nenneker, Editor-in-Chief, New Parent magazine
"Clever and irreverent." ~Janet Evanovich, bestselling author
"As soon as your pregnancy test comes back positive, rush out to buy Jenna McCarthy's irreverent guide to modern-day parenting." ~Jen Singer, author of You re a Good Mom (And Your Kids Aren't So Bad Either)
"Smart, hilarious, incredibly useful and so honest it almost hurts. Every pregnant woman should read this book." ~Peg Moline, Editor-in-Chief, Fit Pregnancy magazine
"At once profane, irreverent, warm and wise." ~Celia Rivenbark, bestselling author of You Can't Drink All Day if You Don't Start in the Morning –Editorial Reviews
And now, for the first time ever, you get get the Kindle version for just $2.99 – less than you'd fork over for a grande latte! 
About THE PARENT TRIP:
"You know that Barbie you had when you were a kid–the pregnant one whose belly popped off like a battery cover,
allowing you to remove the peanut-size plastic baby and then snap on a flat new front (sold separately)?
Well, that s not exactly how it works…"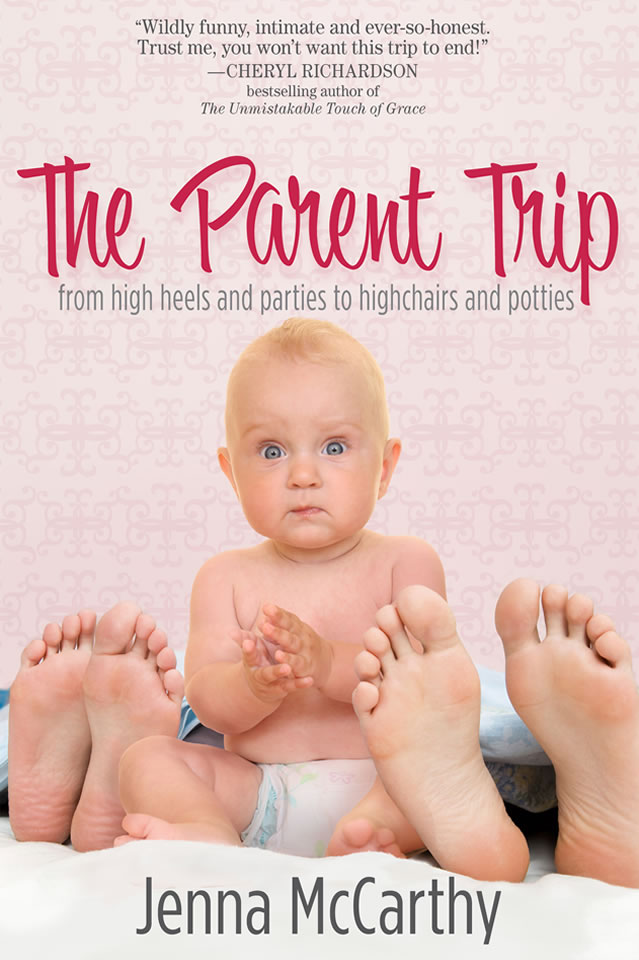 Buckle up for a hilarious ride from conception and pregnancy through the first wild-eyed, miraculous months with a baby.
In The Parent Trip: From High Heels and Parties to Highchairs and Potties,
internationally published author Jenna McCarthy holds nothing back…
and readers will devour every brutally honest word.
Packed with insight, wit and hard-won wisdom,
The Parent Trip delivers the message every fledgling parent longs to hear: You are not alone.
Scrounge up your couch change and order your not-even-three-dollar book here!