Another confession (and I don't know about you but I feel like all of those years of Catholic schooling are finally paying off here): I don't just shop on my girls' trips; I also shop for them. 
[That sound? Oh, just my husband shoving all of my credit cards into his shredder
IT'S FINE I'LL JUST WRITE LOUDER.]
Anyway, I bought this little Velvet dress (as in the brand, not the material) for one of my girly getaways. I loved the muted plum color, and the drapey neckline, and the buttery fabric Velvet is famous for. I could throw it on over a swimsuit or pair it with heels and wear it to dinner. I WAS GOING TO HAVE THIS DRESS FOREVER YOU GUYS. If I wanted to be buried–and I wholeheartedly do not–I would have wanted to be buried in this dress.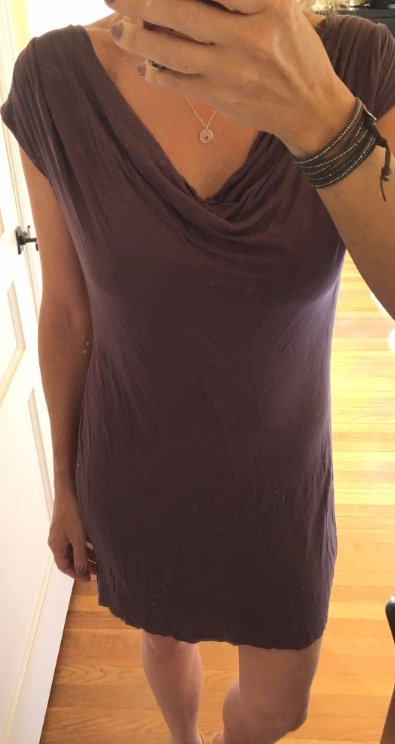 I wore it once.
Just the one time.
And then I washed it.
Just the one time.
And when I did, this happened.
If you look closely, you might just see my ass cheeks hanging out (please God don't look that closely). I thought about saving it–you know, for when I start shrinking with age?–but that could take a while and I don't even own any mothballs. I thought about sleeping in it but that just seems like a waste of a good dress that someone significantly shorter than me might want to be buried in love. 
So I'm letting it go. 
I predict good things will happen. 
XO
Jenna
fusion_text]