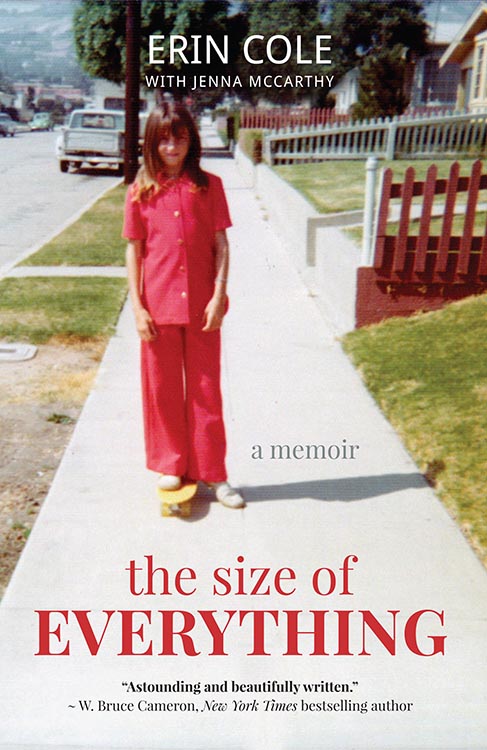 The Size of Everything
"A beautifully written story of triumph,
wit, and sheer determination to survive."
-W. Bruce Cameron, New York Times Bestselling Author
As the face of her eponymous couture bridal business, Erin Cole radiates refined elegance. But the designer's glamorous lifestyle and sweeping success belie a childhood marked by profound dysfunction.
"Remarkable and inspiring."
-Jane Heller, bestselling author
Raised on a steady diet of abuse, alcoholism, poverty, and death, no one would have expected Cole to go on to become a force in the fashion world. As a child, she often had no access to food; other times she was force-fed until she vomited. At home and at school, she was beaten, bullied and belittled. Her alcoholic parents alternately abused and ignored her. By the age of sixteen, she was living on her own.
"I've been raving like a maniac about this book ever since I read it.
I haven't seen a memoir this compelling and inspirational since
The Glass Castle."
–Carla Levy, books editor at Good Housekeeping Magazine
THE SIZE OF EVERYTHING is Cole's moving story and so much more. Equal parts heartbreaking and hilarious, it's a love letter to her surviving siblings, a how-not-to-parent manual, a testament to the power of positivity, and proof that where you come from doesn't have to determine where you can go. Above all, THE SIZE OF EVERYTHING offers a powerful message of hope to anyone who believes that impossibly rocky beginnings can't have a happy ending.
"A searing account of a broken, devastating childhood
and the triumph that emerged in spite of—and because of—the wreckage.
What a book!"
-Allison Winn Scotch, bestselling author