Like all of my books, it has an impossibly long title which I get REALLY sick of typing out over and over so here's the cover: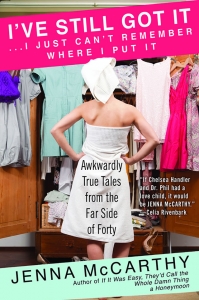 If you are (or know) an author/blogger/reviewer who might be interested in getting an advance copy, please fill out (or forward the link to) this very brief (and highly entertaining*) form.
About this book (which, yes, I stole directly from the Amazon page because, you guys, TYPING IS EXHAUSTING):
Jenna McCarthy might be fortysomething, but she doesn't feel fortysomething. (She feels like a twenty-three-year-old dressed up as her mother.) She doesn't look fortysomething. (Actually she does, but she's in denial so maybe don't mention it?) And between complaining about being tired, trying to remember what she came in here for, and wondering whether she drinks too much, she does not have time for a crisis.

She has, however, had time to crack the mysterious midlife code. She's figured out how to tame her muffin top, keep the spark in her marriage, and probably not die a fiery hoarder's death. She's learned the trick to looking ten years younger (and she doesn't even have to hide it from her husband!), and the secret to feeling ten times happier (and it only cost $14.99 plus shipping and handling). And she's discovered the one thing she'll need to do if she's going to keep refusing to "dress her age."

Tackling everything from cosmetic surgery and financial panic to skinny jeans and the meaning of life, I'VE STILL GOT IT is a middle-age manifesto filled with hilarious misadventures, humiliating confessions, and occasional (hot) flashes of genius.
Here's what some BIG IMPORTANT PEOPLE are saying about I've Still Got It
(and I swear I didn't bribe or pay a single one of them):
"Jenna McCarthy's I'VE STILL GOT IT is everything you could want in a book or a best friend – blunt, truthful, and dead-on hilarious.  Her unflinching look at the vagaries of middle age is witty and astute and will give you comfort in knowing that you're not the only person whose arms are suddenly too short to read the menu.   Granted, you'll still have your laugh lines after reading this, but at least you'll have earned them.  More than ever, Jenna McCarty proves that "she's still got it" in this hysterical collection!"
~ Jen Lancaster, New York Times bestselling author of Bitter Is the New Black and The Tao of Martha
"One part acerbic humor, another self-effacing charm, Jenna McCarthy's I've still Got it…I Just Can't Remember Where I put It is the middle aged woman's bible. If you can't recall where you left your car keys, refuse to dress your age, and drink more in one week than you did throughout your entire college career, McCarthy will have you snorting out loud while you guzzle your sixth glass of Chardonnay. Kudos to McCarthy for seizing the Zeitgeist of her generation by the balls** and detailing every nitty gritty truth."
~-Emily Liebert, bestselling author of You Knew Me When
 Aging isn't funny; it's tragic and unavoidable and depressing as hell. Aging through Jenna Mccarthy's eyes, however, is a laugh-out-loud ride. In fact, after reading I'VE STILL GOT IT, I can't wait to be as old as Jenna!
~ Jill Smokler, New York Times bestselling author of Confessions of a Scary Mommy and Motherhood Comes Naturally (And Other Vicious Lies)
"Jenna McCarthy is smart, freakishly honest and ALWAYS funny.  I've read books from so-called 'hilarious' authors and never laughed once, but I laughed so hard at this book that it has caused me severe bodily distress. I probably should sue her, but instead will just continue to read anything she writes, because honestly, it's worth the pain."
~Cathryn Michon, Writer/Director "Muffin Top: A Love Story"
"Jenna McCarthy isn't just funny, she's an amazingly gifted chronicler of modern life, the person who can tickle the comedy out of situations that aren't, on their own, amusing.  Many times I'll ask myself, "hey, why am I laughing, this stuff is true!"  Do yourself a favor and read this book. We all need humor in our lives."
~W. Bruce Cameron, New York Times bestselling author of "A Dog's Purpose."
"Jenna McCarthy is one of a handful of writers who can make me laugh until I wheeze and my eyes tear up. I actually took screenshots of pages to send to my sister– you don't want to miss this book."
~Robin O'Bryant New York Times bestselling author of Ketchup is a Vegetable & Other Lies Moms Tell Themselves
Thanks for considering reviewing my book. You're awesome. Mean it.
*You have to admit, it's a pretty good form.
** Please note that this is the first time in my life I've been accused of seizing anything by the balls. At least in print.