I have bad feet.
Like, name something that can affect your boats–bunions, bone spurs, hammertoes, tendinitis, stress fractures, plantar fasciitis–and there's a roughly one hundred percent chance I have had or currently endure it.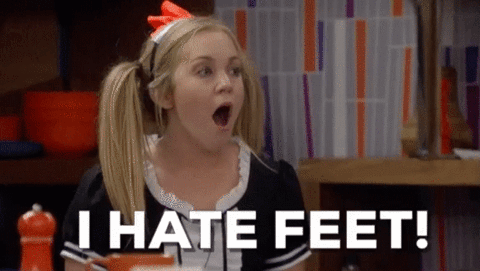 Because of this, a) I have hideous feet (My Uncle Jack tells me frequently I should not be allowed to wear open-toe shoes in public, because apparently having a big mouth and no shortage of opinions runs in my family), and b) I cannot pass up a pair of comfortable shoes. I also wouldn't be caught dead in a pair of Birkenstocks (I know they're the height of hippy-chic right now, but I just cannot). So when I found these Woodstock-meets-Wizard-of-Oz sandals, with the molded soles and bedazzled buckles, I thought I'd won the footwear lottery.
It turns out, there's not another soul on the planet who considers these a score. And I honestly wouldn't give a shit, but even though the soles have that nice arch support and the straps are butter-soft suede, I have to death-grip them with my toes to keep them on so they're not even comfortable.
If they were I would wear probably still wear them, much to my children's horror. But seeing as these have not seen the light of day since Cougar Town was cancelled, I can no longer justify letting them take up any precious closet real estate.
Someone will love them, right? (RHETORICAL QUESTION.)
XO
Jenna