I think it's important to say right up front that I like to dress up as Madonna whenever possible.
Your '80s blowout? I'm coming as Madonna. Halloween? Madonna. Come as you are party? In all likelihood, Madonna. Case(s) in point–and yes, I own the BOY TOY belt and all of the jewels:
My Material Girl fantasies may or may not have been what led me to buy these lace-trimmed pedal-pushers, but I'll go ahead and point out I did not wear these ever when dressing up, in costume, as Madonna. No people, I wore these out as everyday-wear. In fact, it didn't even occur to me to wear them as part of any particular Madge-getup. I purchased these AFTER HAVING CHILDREN, let me add. And held onto them until now. 
You can't really see the lacy trim at the bottom, but trust me it's there. I guess I'll save them in the Halloween tub, in case one of my kids ever wants to dress up as me dressing up as Madonna. It might happen. Also now I really want to have an '80s party.
Who's in?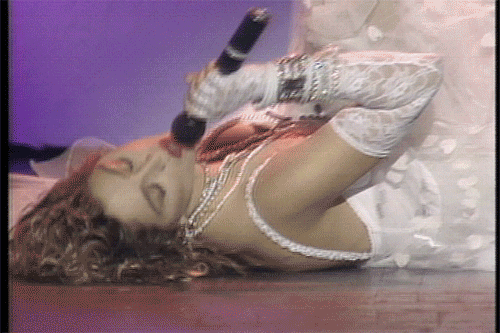 XO
Jenna