You guys know I'm all super-religious, right? (What? That's not what holier-than-thou means? Shit. Never mind.) Fine, I'm not super-religious. I'm spiritual, in a very vague sort of way. (The one that doesn't make you go to church or believe in hell or prevent you from having tattoos and gay friends.)
Nevertheless, I have spent the last four years diligently studying theology*, all with a singular, focused goal: To become a Minister.
Today, my hard work and dedication* paid off.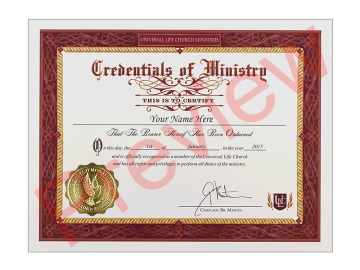 I am now available for weddings, baptisms, vow renewals and funerals (okay I would rather not do funerals but if your budget is in the neighborhood of obscene or above, I'll consider it).
God bless.
~Reverend McCarthy
* I filled out a four-line form and certified that I am over 13.