If there's anything I dislike more than bell peppers, other people's disrespectful kids and the color green combined, it's shorts. I would literally rather cut a hole in a Hefty bag and sport it as a skirt than walk around in truncated trousers.
[LEGIT HAS EPIPHANY: Trunks! As in shorts! Because they are TRUNCATED! #wordnerd]
I didn't always feel this way, of course. Over the years I've sported my share of cut-offs and khakis and even once, an ill-advised pair of madras plaid shorty-shorts purchased on sale at Banana Republic. I'll wear miniskirts all day every day, but the odds of getting me into a pair of shorts today fall somewhere between never and not ever.
I feel like it's worth noting here that when you search for old-lady-in-shorts-GIFs, this is the very first one that comes up, swear to god: 
I do not drive a minivan. I am pretty sure my sassy new haircut doesn't scream soccer mom. But even if I had waist-length locks and tooled around town in some totally pimped-out ride, I am pretty sure I would feel like Grandma Moses* in these:
I do not wear these shorts. I do not need these shorts. If it's hot and I am forced to leave my house, I have forty or fifty skirts that I love (but not this one, this one, this one or this one anymore) to choose from.
Also worth noting is the fact that I have at least seven similar pairs, six of which you'll probably be seeing here before the year is out. I might hang onto one pair. You know, in case I ever go as SpongeBob SquareAss for Halloween.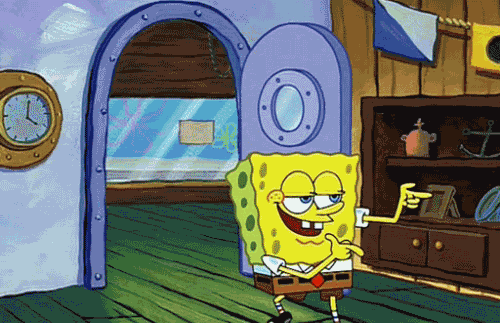 XO
Jenna
*My mom used to refer to the mysterious Grandma Moses a lot, but until this post I had never stopped to wonder if she was even a real person. Turns out, it is! From wiki: Anna Mary Robertson Moses (September 7, 1860 – December 13, 1961), known by her nickname Grandma Moses, was a renowned American folk artist. She began painting in earnest at the age of 78 and is often cited as an example of an individual who successfully began a career in the arts at an advanced age. From my brain: Good to know if this writing thing doesn't pan out, I've got thirty more years to find a replacement career!